Revitalizing an Iconic Brand

The Challenge
Mace pepper spray is the original and best-known pepper spray brand. Unfortunately, for many, the name "Mace" had become interchangeable with "pepper spray" and was at risk of becoming the generic name for the category. Senior leaders within the organization were considering possible approaches to drive company growth, and drive brand differentiation and preference, but lacked an understanding of the pepper spray customer and market. Without deeper knowledge of these facts, they risked pursuing the wrong audience and investing in the development of unwanted and unneeded products.

The Approach
In collaboration with Balance Product Development, Ideas in Focus designed a comprehensive, multi-phase voice-of-the-customer program to help Mace define pepper spray user segments, understand perceptions about Mace and competitor brands, uncover user wants and needs, and provide feedback on new product and marketing concepts. Insights developed during each phase of the work informed the design of the next phase. This iterative approach allowed us to adapt and course correct our process along the way, leading to faster, more refined, and more impactful results.


10
IDIs with Staff
At the start of the project we conducted in-depth, exploratory interviews with a variety of Mace staff. By interviewing these people individually vs. in a group setting we were able to tease out nuances about the brand, the opportunity, and start to build rapport with the team.
4
Hours of Usability Testing
Taking a "hands on" approach, we tested and evaluated Mace and other brands of sprayers for ease of use, effectiveness, and other design considerations.
15
Hours of Secondary Research
By reviewing the competitive set as well as public and media opinions, we were able to evaluate opportunities and challenges for Mace positioning in the market.
20
Store Checks
These in-store "shopping trips" allowed us to see how products are packaged, merchandised, and promoted.
15
IDIs with Law Enforcement
Pepper spray is a standard part of the police officer and park ranger's gear. By understanding how these experts perceive Mace and other brands, we gained insight into opportunities for them and the consumer market.
10
IDIs with Retailers
Selling pepper spray poses unique challenges for retailers. From packaging requirements to how the state allows the product to be displayed, we learned what concerns and objections Mace needed to overcome with retailers.
12
Competitors Audited Online
In addition to our store visits, we reviewed every pepper spray competitor we could find online. This included evaluating their brand positioning, product offering, pricing, and an assessment of their threat to Mace.
16
Focus Groups
To provide Mace with information that represented the various legal, cultural, attitudinal, and geographic nuances of the pepper spray market, we conducted focus groups with current pepper spray users and non users in Boston, Cleveland, Denver, and Portland.
1,000
Online Survey Responses
Because the pepper spray market is fragmented with a wide variety of small and privately held companies, very little data existed about incidence, usage, or brand awareness. We conducted a 1,000 response nationally representative survey to understand who used pepper spray, why they purchased it, and what their demographic, attitudinal, and behavioral profile looked like.
500
Online Survey Responses
Once we determined what the pepper spray market looked like, we conducted a second survey to help us develop robust profiles of the pepper spray user. These responses provided us with a fact basis to complement the focus group learnings.
1
Ideation Facilitation
Once the personas were developed, we conducted a day-long ideation session with the Ideas in Focus team, Balance Product Development, and a cross-functional team from Mace. This session led to hundreds of product, brand, and marketing ideas.
40
Concepts
Following the Ideation session, we organized, evaluated, rated, and ranked the hundreds of ideas, distilling them down into a list of "best" opportunities. These ideas were then placed in a roadmap that identified "quick wins" that could be implemented right away, short to medium term opportunities that needed some time for development, and longer term plays that would either require greater investment or the development of new technologies to accomplish.
Personas

Armed with a deep understanding of the size of the market, competitor's positioning and their products, customer wants and needs, and the realities of the retail and wholesale channels, we developed robust customer personas. These personas defined pepper spray users across a variety of attitudinal and behavioral attributes and helped inform marketing and communications efforts, as well as a daylong ideation session.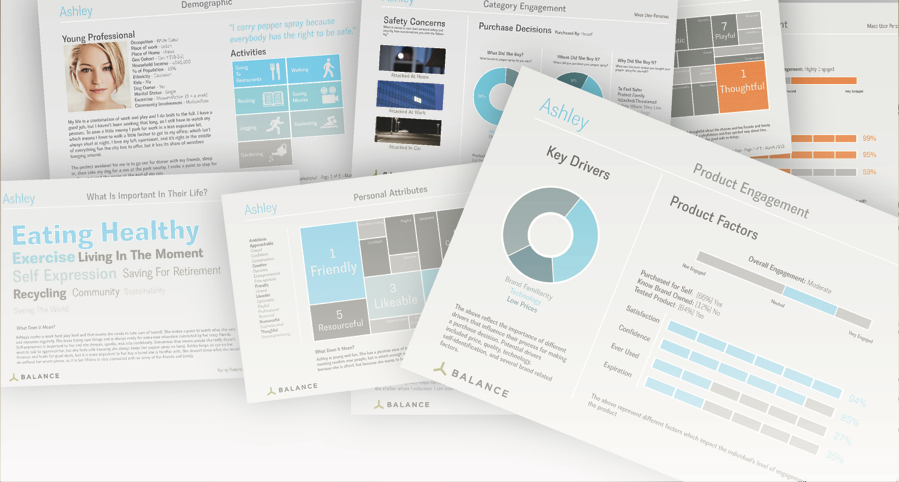 Ideation Session
Ideas in Focus facilitated this session which resulted in the creation of more than 250 new product, service, brand, and marketing ideas. 

The top product ideas were then developed into concepts and tested for likeability, uniqueness, purchase intent, and were refined and enhanced based on participant feedback. The concepts receiving the greatest interest were then added to Mace's product development roadmap.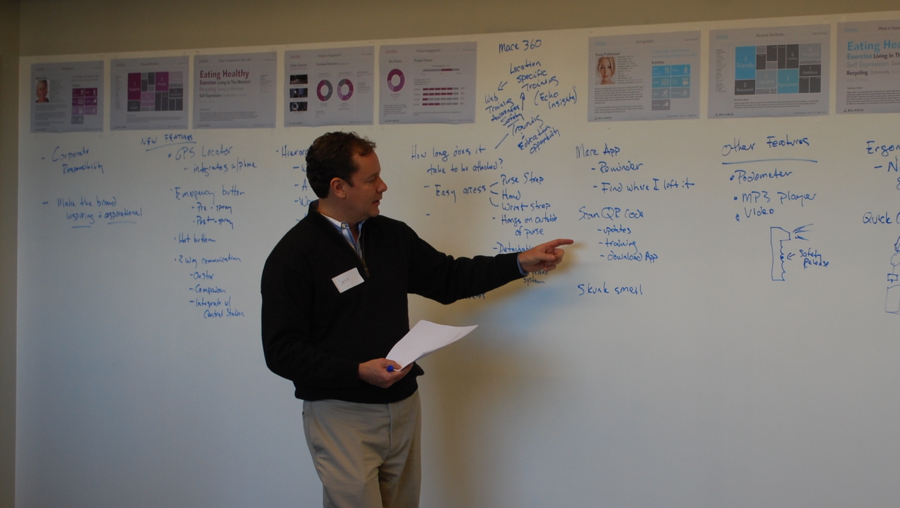 Enhancing the Product
Leveraging the output of the research and ideation session, our design partners, Balance Product Development, were able to quickly develop product enhancements including:
​Cost reduction
Improved ergonomics
Modularity
Better accessibility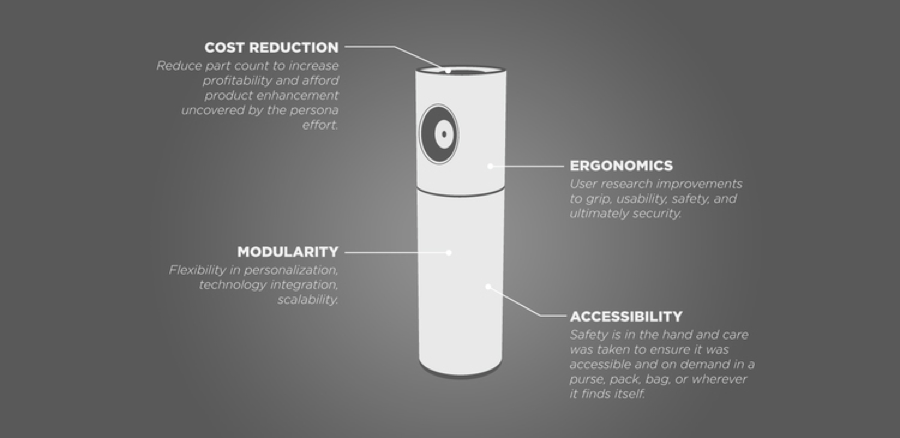 Accolades
"Through a custom research program, Ideas in Focus did a fantastic job helping us develop robust customer personas which informed development of new Mace® Brand products as well as greatly enhancing our marketing and sales strategy." 
John McCann, President & CEO 
Mace Security International