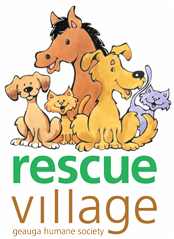 Ideas in Focus Donates Services to Rescue Village
01/24/2017
We are happy to announce our donation of professional services to enable the fielding of Rescue Village's first ever community survey. Our responsibilities include survey writing, programming, testing, fielding, and analysis. 
This survey closely follows the completion of a $3 million dollar shelter renovation which dramatically increased the organization's capacity and ability to save animal's lives. The survey will help Rescue Village understand community perceptions, identify opportunities to offer new services, enhance adoption and volunteer programs, and inform marketing, development, and community relations efforts.

About Rescue Village
Rescue Village is a 501(c)3, independent, limited admission, unlimited stay shelter located in Geauga County, Ohio. Every year more than 2,000 animals come through their doors. They do not euthanize (humanely put to sleep) any animal for space or time constraints. Adoptable animals remain in their shelter until a home is found or unless their health or temperament dramatically changes. Animals surrendered to the facility are evaluated based on their health and temperament. Every animal is treated with dignity and respect and their staff works tirelessly in each situation to achieve the best outcome possible.

Vision: A humane world where animals are treated with compassion and respect.

Mission: To act on behalf of animals and inspire people to build a more humane community

If you would like to learn more about Rescue Village and how you might help them, please visit their website:

http://www.geaugahumane.org